Why study politics and global studies at ASU?
Career outlook
The School of Politics and Global Studies prepares students for great careers. The School provides professional training to future decision-makers in government, business and policy entities. Many of our graduates have found positions in government offices, Foreign Service, local and national newspapers, nonprofit organizations, etc. Here are a few examples of the type of careers our majors will have:
Public Relations Specialist | 24.04% growth | $54,170 median salary
Risk Management Specialist | 10.50% growth | $61,160 median salary
Intelligence Analysts | 16.63% growth | $74,300 median salary
Regulatory Affairs Managers | 7.32% growth | $100,890 median salary
Early start to success
Wouldn't it be great to get a head start on college life and your Political Science or Global Studies major before the semester begins? The Early Start Program is designed to prepare you as a Political Science or Global Studies major for the fall semester and beyond.
Move into your residence hall early.
Connect with faculty and fellow students.
Hear from guest speakers with experience in politics.
Learn what to expect from college courses.
Local to global
Internships are a great way to gain real world experience and connections while also continuing your degree! The School of Politics and Global Studies offer great opportunities to work in abroad on global issues, in DC on national issues, or in the State Department on local issues.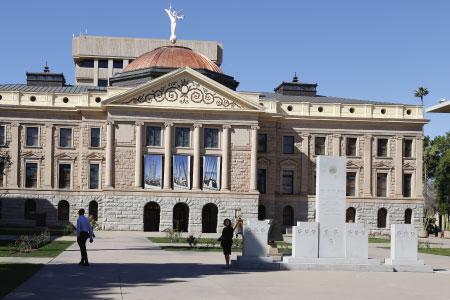 AZ Legislative Internship
The Arizona Legislative Internship is a competitive program that provides an opportunity to intern full-time at a state agency, the State Legislature, the Governor's Office or Arizona Supreme Court.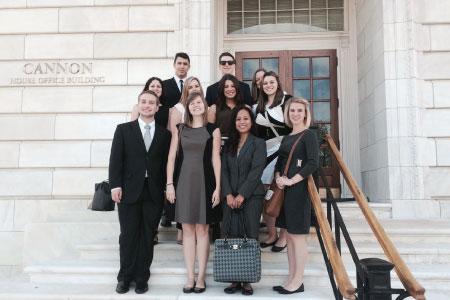 Scholarships
The School of Politics and Global Studies awards over $10,000 worth of scholarships each year to deserving students. There are opportunities to earn scholarships based on academics, experience, personal stories, financial need and more. The School offers the follow scholarships every year:
SPGS Director's
Calvin M. Holman Political Science
Craig and Barbara Barrett Political Science
Carrie Falbe Capital Scholars Memorial Endowment
Herman R. Frazier Political Science
Kenneth C. Behringer Political Science
Norma F. Schuessler
Ross Rice Award
Sarah Anee McNeil Memorial
Zachary J. Marco Capital Scholars
William D. Kavan