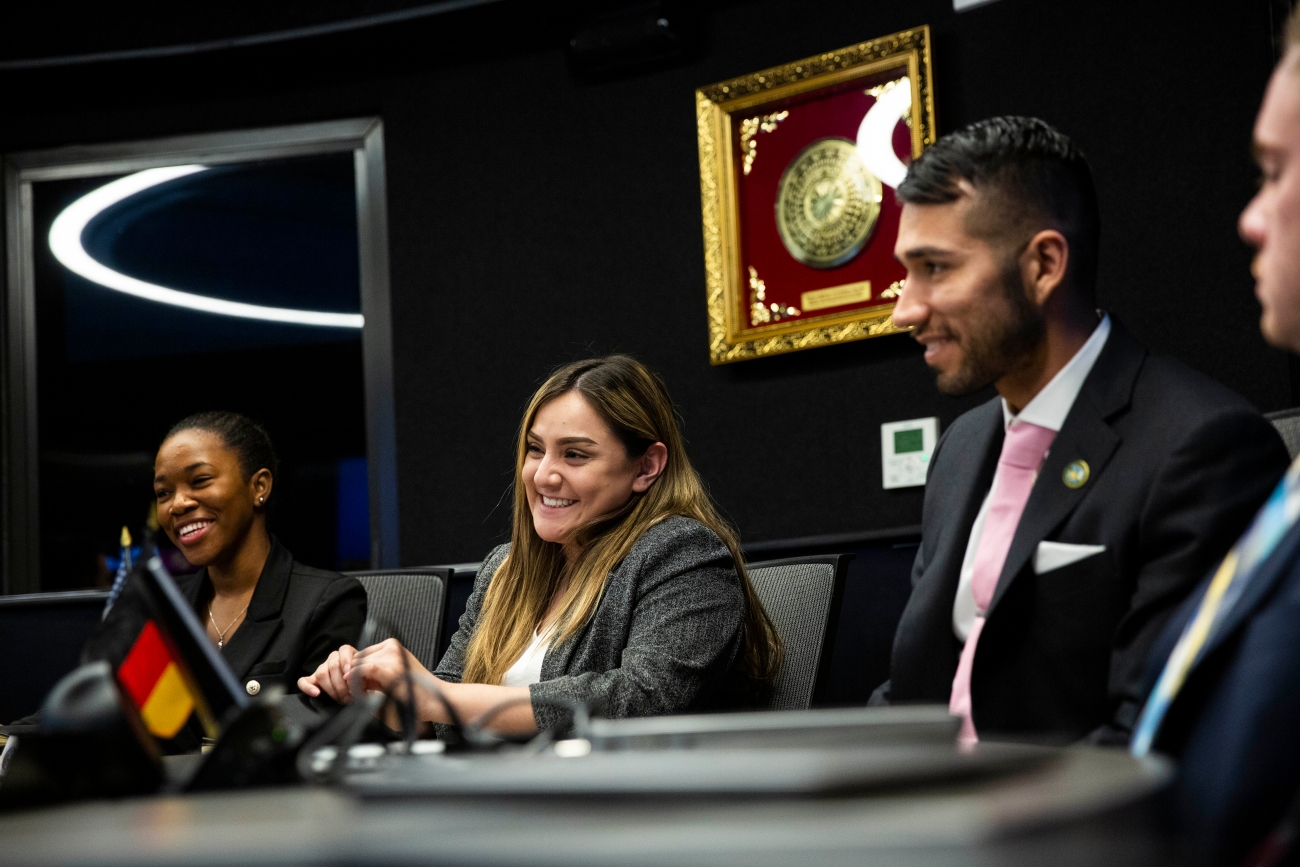 Policy Design Studio & Internship Program
U.S. Diplomacy in Action

Play the role of a U.S. embassy official throughout the semester dealing with actual events as they happen under the guidance of a former Ambassador. Meet with prominent experts, discuss and debate real-time policy challenges, and develop a strategy for the future of U.S. relations with an important ally. Work directly with senior diplomats, military officers, and others to learn about national security policy and leadership. Live and intern in Washington, D.C. for the semester while earning 12 upper division credits. Visit government agencies and historical sites, and attend networking events.
Course information
POS/SGS 494: Policy Design Studio
Instructor: Ambassador Roderick Moore
Fridays 10:00am to 1:00pm
Session C
Honors credit available
3 credits
POS 484: Internship
Instructor: Ambassador Roderick Moore
Offered virtually through Zoom
Session C
1-9 credits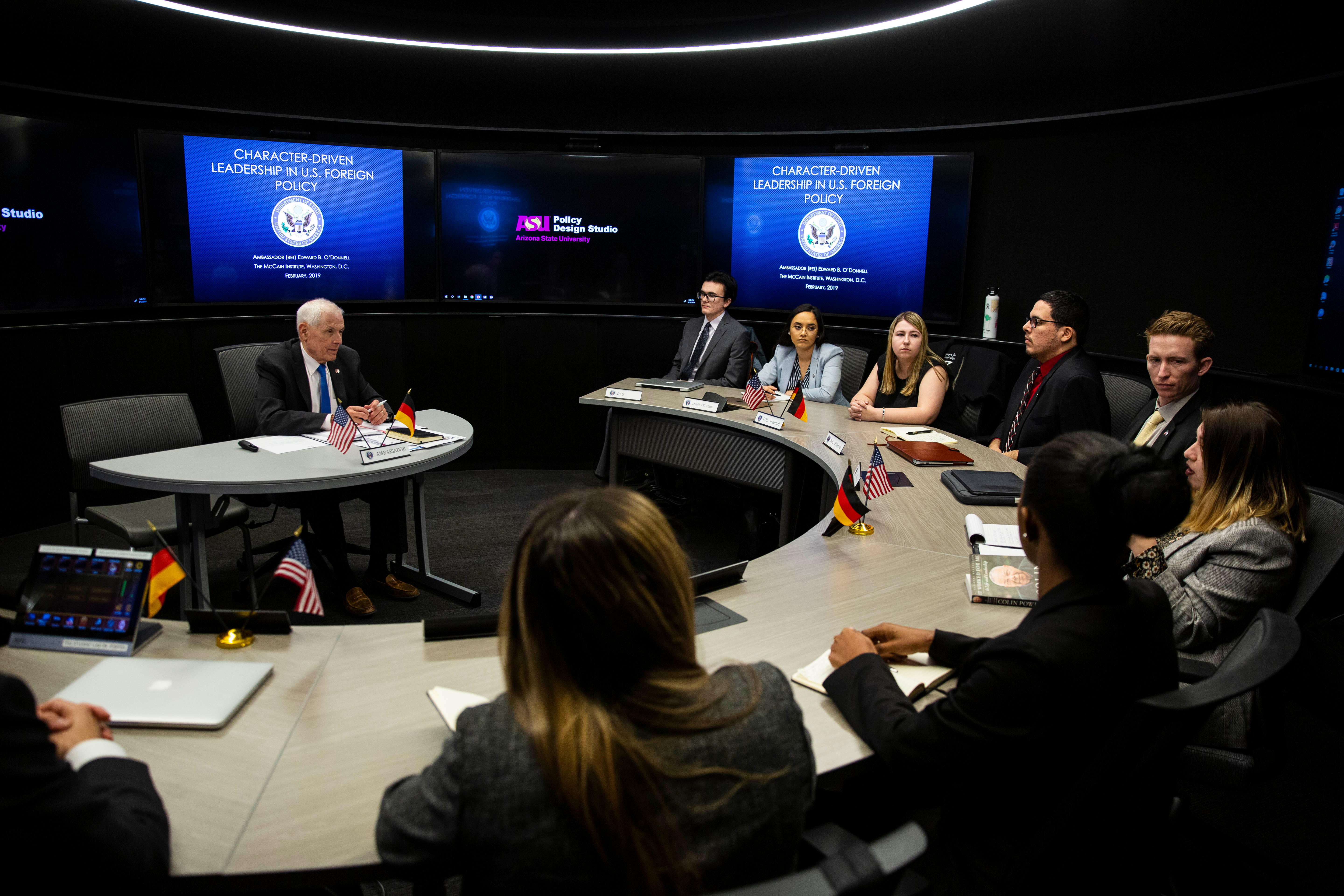 Program dates
Spring 2024: January 6 - April 28
Fall 2023: August 12 - December 2
Program fees
The program fee includes housing and program excursions. Additionally, students must also pay full time ASU tuition, fees, and transportation and living expenses. Find scholarships and financial aid resources here.
Program fee for Spring 2024 - $7,680
Program fee for Fall 2023 - $7,905
Eligibility requirements
Students from any undergraduate or graduate program are eligible.
Undergraduates must have a 3.0 ASU GPA and be a junior or senior to participate.
Accommodations
Students live at Turnkey Housing Solutions, Meridian at Gallery Place, conveniently located in Chinatown with a community of fellow Sun Devils in centrally located, furnished, suite style apartments.
Start your application today
This program is currently accepting applications. Visit the Global Education Office webpage through the button below.
In addition to the application, you will need to upload an unofficial transcript and clear scans of your student ID and government issued ID. You will also need to submit two recommendation forms (accessible via the Study Abroad application) from academic and/or professional references.
Applicants are charged a non-refundable $50 application fee. Once applications are reviewed, students who meet the program criteria are interviewed by a selection committee.
Helpful Links
Connect with Us
Questions? Reach out to School of Politics and Global Studies Program Coordinator Kayla Stamey at Kayla.Stamey@asu.edu or Program Manager Ashley Wright at Ashley.A.Wright@asu.edu
"The [Policy Design Studio] program offers the experience any student would want. The connections in D.C, support for the internship, and the teamwork in the classes is beyond what a normal class provides. I'm glad I was a participant and ended up staying in D.C for almost a year. My internship turned into a paid position. I would highly recommend this program to any student."
David, program participant
"The Policy Design Studio is the best way to learn about the Foreign Service, short of actually becoming a diplomat! While I was in Washington, D.C., I built up valuable skills that I will take into the professional world after I graduate. This program encouraged me to take risks, think creatively, and try new things. I made valuable connections through my internship and my course, and overall I loved my semester in DC!"
Julia, program participant
"The [ASU Leadership, Diplomacy and National Security Lab] program is an unmatched opportunity to live and learn in our nation's capital while pursuing an internship that supplements your academic career and develops your professional career."
Michael, program participant
"The Policy Design Studio gave me the confidence to commit to a career in diplomacy. While studying under Ambassador O'Donnell, I learned more about the art of diplomacy and how government agencies, the military, and the private sector interact in our efforts overseas. This program demonstrates the value of SPGS as a global institution, and I could not recommend it more highly to students."
Matthew, program participant
"It allowed me to expand my horizons. By bringing together all of these great minds in this one city, it allows for a lot of personal development. You make those personal connections through this program. It's going to be a lot easier for me to find a job where I want to work. It was a fantastic experience."
Ryan, program participant
"The [ASU Leadership, Diplomacy and National Security Lab] Program gave me an opportunity to learn from a former ambassador about the functions of a US embassy. The simulation allowed me to create new skills and improve others. I was also able to intern on Capitol Hill and this provided me job opportunities that I would not have received if I had not been part of the program."
Daniel, program participant
"The School of Politics and Global Studies' Policy Design Studio (PDS) course was one of the most important and formational experiences of my undergraduate education. From simulating the inner machinations of US embassy mission teams, to developing real-world experience through an in-person internship in Washington DC, my semester with the Policy Design Studio opened countless doors for me. Thanks in part to my experience Now, as a member of the Phoenix Committee on Foreign Relations (PCFR) and GlobalTiesAZ, I am able to bring my PDS experience from ASU to the real world and enact change in the very community that gave me the tools to achieve the success I have reached today."
Bastien, program participant
"PDS for me was my gateway into using data to bolster policy-craft and for becoming a clear communicator in the fast-paced world of policy. Before the program I knew I was interested in international relations and policy making, but being in Arizona I didn't have a lot of opportunities to determine exactly what area I was interested in. While in the PDS program I was given the opportunity to not just apply skills I had been learning in school such as brief writing and public speaking, but I also was given the chance to speak with professionals in a variety of different fields related to policy. Additionally, it was the use and role of technology in policy craft that was taught to us in the program that truly struck me as an area I wanted to pursue.  These experiences in addition to the new skills I learned, in particular, data visualization, helped me land my job as a Senior Research Analyst for ASU's Decision Theater in Washington DC."
Victoria, program participant
"The ASU Policy Design Studio was the most engaging and beneficial class I have ever taken. I appreciate being allowed the opportunity to learn so much about foreign policy from both of you and our amazing guest speakers. Your instruction also helped me enormously in the clarity and brevity of my writing as well as my public speaking."
Ryan, program participant
"The PDS sparked my academic curiosity in public diplomacy and strategic communications while simultaneously providing me with professional experience in my dream career field. The connections and experiences that formed while I was in D.C. for the PDS have directly supported my future endeavors, as I now am a Master's Student in Global Communications at the George Washington University actively pursuing a career in public diplomacy."
Nikki, program participant
"The Policy Design Studio course was a truly unique university experience. Whereas the overwhelming majority of university courses focus on career preparation by means of lectures or textbooks, the PDS course provides students with the rare opportunity to grow their understanding of both the academic and professional components of U.S. foreign policy through an authentic simulation of an American embassy. With the incredible guidance of two retired U.S. ambassadors, both of whom hold a wealth of knowledge and experience in an embassy environment, this course quickly became one of the most rewarding decisions of my university career. As a simulated embassy team, every student has a vital role in contributing to the work of the group throughout the semester. Whether it be on the rule of law in Russia or creating a stable economy in Afghanistan, by the end of the course, every person on the team becomes an authoritative voice on any given subject of concern to the embassy. In addition to the expertise of both professors, the course regularly brings students together with subject matter experts and career professionals to have frank and revelatory, but always professional conversations about the dynamics of U.S. involvement in the embassy's host country, or about the host country itself. The PDS course stands out as a one-of-a-kind experiential learning environment that any student would regret passing on."
Spencer, program participant
Frequently Asked Questions