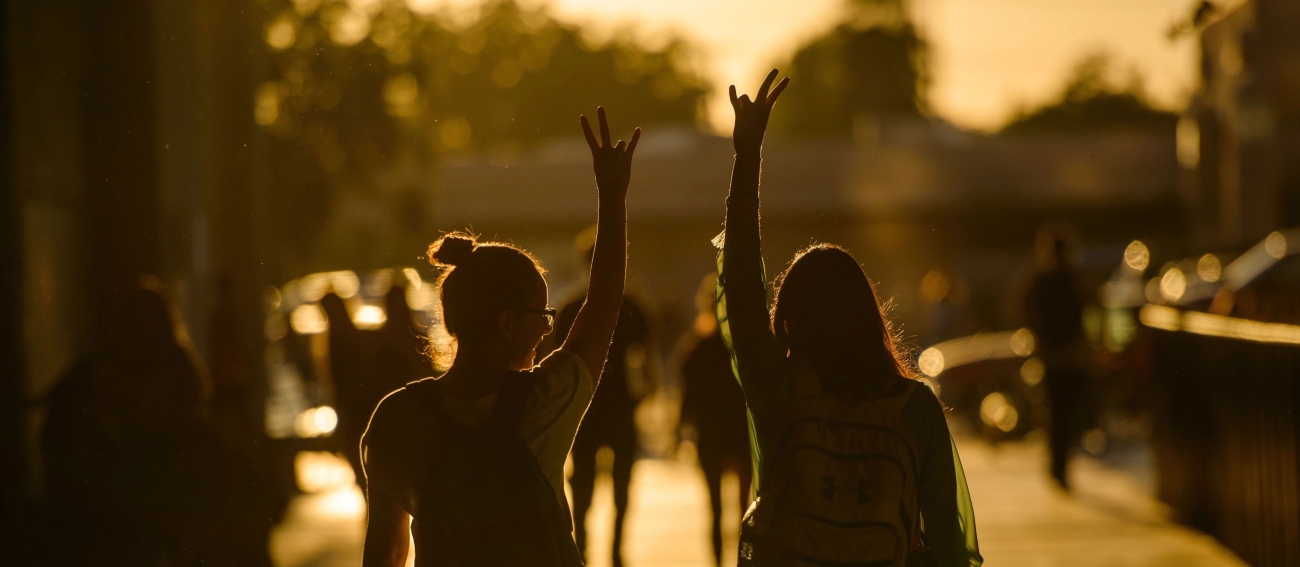 Accelerated Master's in Political Science
The Accelerated Master's Program in Political Science is designed to enable highly qualified undergraduate students in the following on-ground majors to earn both a Bachelor of Arts/Science degree and a Master of Arts in Political Science degree in five years:
BA in Political Science
BS in Political Science
BA in Global Studies
BS in Politics and the Economy
Students accepted into the Accelerated Master's program may apply up to 3 credits of 400-level coursework and 9 credits of 500-level coursework as "shared" courses, allowing the student to complete both degrees more quickly.
These degrees are designed to meet the needs of students pursuing careers in a variety of areas. Students completing the accelerated program are well-positioned for application into a PhD or law program or enter the work force in a variety of fields. Within the MA in Political Science, each student may select a major field to study in-depth under the advisement of world-class faculty. Specializations include International Relations, Comparative Politics, and American Politics. Within these areas, a course of study can be individualized to each student in the program.
Learn more about the Political Science, MA
Eligibility
To be eligible for admission to the Political Science Accelerated Master's program, a student must:
be a declared, on-ground student in one of the four Bachelor's degrees listed above at the time of application
have earned at least 75 hours toward the undergraduate degree at the time of application; 90 hours are needed to begin taking graduate courses
have completed (or be in the process of completing at the time of application) an in-person, 3-credit, 400-level POS course. Internship credits, independent study, and Junior Fellow courses are not eligible.
have completed (or be in the process of completing at the time of application) POS 401 or SGS 401, Political Statistics
have a minimum 3.6 cumulative GPA at the time of application (cumulative GPA earned at ASU, excluding transfer credits.)
be on track to graduate with the undergraduate degree within two semesters after being accepted into the program (one calendar year after the acceptance date)
identify a faculty mentor in the School of Politics and Global Studies to serve as an Accelerated Master's advisor. Please see list of eligible faculty members here. Mentors must be tenured or tenure-track faculty in the School of Politics and Global Studies. Please verify on the SPGS website that mentors are Professors, Associate Professors, or Assistant Professors. Teaching Professors, Instructors, Faculty Associates, Professors of Practice, and faculty from other units are not eligible to serve in this role. The mentors helps with course selection and general guidance in the program; they may or may not end up serving as a thesis or portfolio advisor.
complete an application packet and submit all materials by the May 1st deadline.
Students who do not meet these criteria may still apply to the regular M.A. in Political Science here, pending graduation with a BA or BS degree.
Application Process
The application deadline is May 1st of the spring prior to participation (typically, this will be in the spring of the student's junior year). Please contact Jenna Roelle, Graduate Coordinator, with any questions.
Applicants will be notified by email by June 1st of their admission status. Admitted students must submit the online Graduate College application by October 1st and pay the application fee.
Electronic application packet should be sent in one email and include four attached documents:
Cover page. Please include:

Name
Specify BA/BS degree and major/minor
Intended major area in graduate study (International Relations, Comparative Politics or American Politics)
Cumulative GPA
POS/SGS courses taken and grades for each course (please include table or bullets for this information)
Anticipated date of graduation with Bachelor's degree
Names, titles, and email addresses of three letter writers for letters of recommendation.

Copy of unofficial transcript
Writing sample (no more than 5 pages)
Personal statement (1-3 pages) describing why you are interested in the Accelerated Master's program. Within this statement, identify a SPGS faculty member that will serve as the advisor. Be sure to request this of the faculty member before identifying them.
In addition: Three letters of recommendation should be sent directly to Jenna.Roelle@asu.edu from the letter writer in an attached Word or PDF document by May 1st. Please include applicant's name and "Accelerated Master's LOR" in the subject line.
Two letters must from ASU faculty members or instructors in any discipline. One letter should be from the faculty member in the School of Politics and Global Studies that has agreed to serve as the student's 4+1 mentor. Please ensure the faculty is eligible to serve in this role (see eligibility above).